Smart Cities for All Advisory Committee Members
The Smart Cities for All Advisory Committee includes disability leaders with deep knowledge and expertise in disabilities, cities, assistive technologies, information technologies, and Smart City solutions. The role of the Advisory Committee is to help to continue expanding the SC4A scale and impact; provide feedback to the SC4A staff on the current projects and opportunities; suggest outreach opportunities and possible cooperation with other organizations; etc.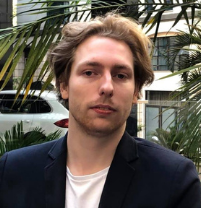 Program Officer, Global Program for Inclusive and Accessible Urban Development, World Blind Union (WBU)
Juhlin Lagrelius is a program officer at the World Blind Union (WBU), a federation representing the estimated the 253 million persons who are blind and partially sighted worldwide with over 190 national member organizations.
Mr. Juhlin Lagrelius is 28 years old, originally from Sweden, and has lived with a visual impairment since birth.
Mr. Juhlin Lagrelius manages WBU's Global Program for Inclusive and Accessible Urban Development aiming to promote and ensure that urban development policies and practices integrate disability inclusion, accessibility, and Universal Design to leave no one behind in urban transformation. The program started with the WBU Accessible Smart Cities for all initiative 2019 which is now larger in scope. Mr. Juhlin Lagrelius works closely with UN-Habitat on the implementation of a milestone agreement on disability inclusion, Universal Design, and accessibility towards cities for all. He is currently a co-chair of the Partner Constituent Group of Persons with Disabilities within the multi-stakeholder platform General Assembly of Partners (GAP) and is very active in the Global Network for Disability-Inclusive & Accessible Urban Development (DIAUD).
The position at the World Blind Union is a Bilateral Associate Expert secondment by the Swedish International Development Cooperation Agency (Sida). He has BA degrees in Peace and Development Studies and in Political Science from the Linnaeus University in Sweden and has a professional background in disability rights and organizational development, primarily in the bilateral development cooperation sector and disability rights movement.
President and CEO, Access Living
Karen Tamley served as Commissioner of the Mayor's Office for People with Disabilities in Chicago for 14 years, where she tackled disability policy and accessibility initiatives under three Chicago mayors. Karen led disability-related work in the areas of transportation, city infrastructure, technology, emergency planning, education, and employment. She also oversaw the delivery of direct services including in-home supports, home accessibility modifications, and employment services to thousands of youth and adults with disabilities.
Karen was appointed by President Obama in 2016 to serve on the United States Access Board, which develops national accessibility guidelines and standards. In March of 2019, she was elected Chair of the Access Board.
In becoming CEO of Access Living, Karen is returning to her roots. She worked at Access Living from 1996 to 2005, under founding CEO Marca Bristo, first for three years as the Housing Policy Coordinator and then for six years as the Director of Programs.
Prior to that, she was the Housing Director at Atlantis Community, Inc. a Center for service and advocacy for people with disabilities in Denver, Colorado.
Tamley has a depth of experience serving on a wide variety of community and nonprofit boards that focus on cultural experiences and diversity and inclusion.
In 2015, Karen received the Motorola Solutions Excellence in Public Service Award from the Civic Federation, which recognizes a non-elected government official for having an extraordinary impact on the quality of state and local government services in Illinois, and she received the Distinguished Fellow award from Leadership Greater Chicago.
Karen is a graduate of the University of California, Berkeley. She lives in Chicago with her husband, Kevin Irvine, and their adopted teenage daughter, Dominika. All three have disabilities themselves and are actively involved in grassroots disability advocacy locally and nationally.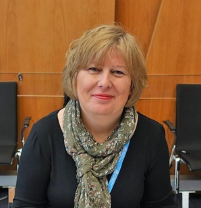 Consultant and Trainer, Vice-Chairman ITU JCA-AHF (Joint Coordinating Activity on Accessibility and Human Factors)
Lidia Best is a vice-Chairman of ITU JCA-AHF (International Telecommunication Union Joint Coordination Activities on Accessibility and Human Factors) and internationally recognised accessibility expert and advocate for persons who are deaf or hard of hearing. She brings unique knowledge as expert with lived experience, as a person who is hard of hearing and a cochlear implant user since 2009.
Her work has specific focus on accessibility and quality of hearing care for deaf and hard of hearing people including policy development, training, and consulting. She contributed to work on standards as a member of G3ict delegation to ITU in telecoms, captioning and assistive listening devices , having authored the ITU FSTP-RCSO "Overview of remote captioning services" and H.871"Safety requirements for wearable audio augmenting devices" the recommendation on personal sound amplifiers.
After 10 years, Lidia stepped down from a position of the Vice-President of the EFHOH (European Federation of Hard of Hearing) in 2020 to concentrate on international advocacy work. While at EFHOH she was co-author of reports into situation of hard of hearing and deafened people in Europe in areas of employment, hearing care and accessibility. She was an expert advisor at European Disability Forum (EDF) Transport Committee.
In UK, Lidia is a Chairman of the National Association of Deafened People (NADP), she attended London Mayor Accessibility and Disability Committee and participated in accessibility in public transport evaluation.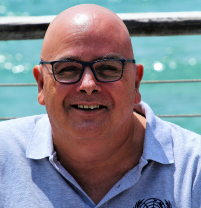 Founder and Chair, Access Israel
Yuval Wagner was an Air Force combat helicopter pilot. Due to a flight accident he is today a quadriplegic, paralyzed neck down, confined to a wheelchair. Founded Access Israel org. promoting accessibility and inclusion for people with disabilities and the elderly in all areas of life.
Yuval is an expert consultant of accessibility services for people with disabilities with 20 years' experience. Accessibility innovator and leader who promotes future technology accessibility. International Speaker, specialist in Computer Programming. Hold BA degree in Marketing, Finance, Information Systems.
Yuval is Chair of the Technical Board of Accessibility at the Israeli Standard Institute; member of the global community of social entrepreneurs of the World Economic Forum – Schwab; Chair of Risk Situation for People with Disabilities Israel; Board Member of Consulting Board to the Commissioner for People with Disabilities Israel; member of the Public Council of the Open University; member of the World Economic Forum Task Force on Accessibility in Smart Cities.
Cid Torquato is the former Municipal Secretary for Persons with Disabilities for the city of São Paulo, Brazil and is currently President of ICOM Libras. A lawyer graduated from the Faculty of Law of the University of São Paulo, Cid has been an executive at Lowe & Partners Latin America and StarMedia Networks, an advisor in Electronic Government for the Ministry of Planning, Budget and Management, during the Government of President Fernando Henrique Cardoso, founder of the Brazilian Chamber of Electronic Commerce, Deputy Secretary of the São Paulo State Secretariat for the Rights of Persons with Disabilities, and advisor to CONADE – the National Council for the Promotion of the Rights of Persons with Disabilities. Cid authored the book "Entrepreneurship without Borders - An Excellent Path for People with Disabilities", after becoming quadriplegic in 2007.