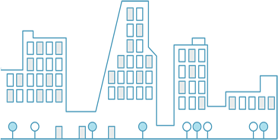 Smart Cities worldwide are uniquely positioned to use their considerable purchasing power, including of information and communications technologies (ICT), to advance the rights and digital inclusion of persons with disabilities and older persons.
G3ict, through its Smart Cities for All global initiative, is partnering with the World Economic Forum, Secretariat for the G20 Global Smart Cities Alliance, to help cities worldwide adopt technology procurement policies that support greater inclusion. The Microsoft Corporation is providing funding and expertise to support this new global initiative.
Under the new Inclusive Procurement Launchpad project, G3ict will partner with an initial cohort of six cities to adopt the Forum's model policy that uses the procurement process to support more accessible digital city services for all, including persons with disabilities.
Los Angeles has joined the Inclusive Procurement Launchpad project. Will your city join and use the World Economic Forum model policy to support greater inclusion?
If you think your city could be more inclusive by adopting the model policy,  let us know by filling in details in the link enclosed.