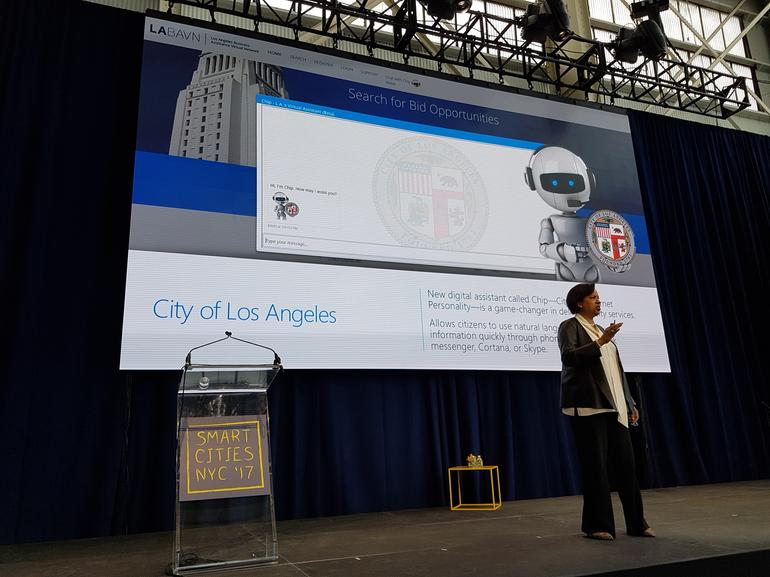 Smart Cities NYC '17: Microsoft's deep dive into smart city tech
Toni Townes-Whitley at Smart Cities NYC '17 talking about the AI bot Chip used by the city of Los Angeles. Image: Teena Maddox/TechRepublic
Microsoft made several announcements at Smart Cities NYC '17, including a new toolkit for building accessible and inclusive cities. Also featured was an AI virtual assistant for Los Angeles.
By Teena Maddox | May 5, 2017, 11:53 AM PST
Everything from a new accessibility toolkit for smart cities, to an AI assistant, to a patrol car prototype were part of Microsoft's presentations at Smart Cities NYC '17.
First on the agenda was Microsoft's announcement about its Smart Cities for All Toolkit to help city officials and urban planners design cities with inclusive features to assist people with disabilities. The toolkit was developed by G3ict and World Enabled as part of the Smart Cities for All initiativeto give city leaders a strategic guide to benefit all citizens, including the approximately 1.2 billion people in the world with disabilities.
The toolkit is the first step toward what Microsoft plans to be a long road to help cities become more inclusive. It's comprised of four new tools to address priority challenges and alleviate the top barriers for disabled individuals in smart cities.
"The toolkit is meant to be guidance for city leaders to think about how to make the business of becoming a smart city accessible to everyone. They don't know where to start," said Kathryn Wilson, director of cities solutions worldwide public sector for Microsoft.
The components of the toolkit include procurement guidance, such as the evaluation processes that need to be in place before addressing traffic or crime reduction and how to make it accessible, Wilson said.
The partnerships with G3ict and World Enabled began about 6-9 months ago, and the intent is to teach cities what to do to remove barriers for everyone—not just people with disabilities, but language barriers, too. "How do we make sure that cities are thriving for all of us?" Wilson said.
Smart city technology gives cities the opportunity to make the digital divide for people with disabilities smaller, but there's a risk that it will inadvertently make the divide bigger, by not using the right technology. That's why G3ict and World Enabled partnered with Microsoft to develop the toolkit, said James Thurston, vice president of G3ict.
VIDEO: Smart Cities NYC '17: How to make urban areas inclusive and accessible for people with disabilities(TechRepublic)
"I think cities have a lot to learn from Microsoft. Microsoft has a chief accessibility officer, and cities should also have a chief accessibility officer, just to make sure that every part of the enterprise, or the organization, recognizes that this is not just an issue of compliance, but an issue of innovation, responding to unmet needs to make better services," said Victor Pineda, president of World Enabled.
Pineda said, "technology levels the playing field."
Chip the AI bot
Next up, the city of Los Angeles showed how it is using Microsoft cloud technology to power an artificial intelligence virtual assistant named Chip. The new AI bot is on the city's procurement page and debuted in beta format in late March 2017, and went live in mid-April 2017.
Lilian Coral, chief data officer for the city of Los Angeles, said that the city is dedicated to becoming more digitally savvy and as part of that it has incorporated the AI bot as its city hall internet personality.
VIDEO: Smart Cities NYC '17: How Los Angeles is using an AI bot as part of smart city tech(TechRepublic)
"Chip was created by our IT organization to help the public navigate our business assistant virtual network," Coral said, explaining that the gateway is the city's procurement department and has historically been known as an application that is difficult to navigate.
The city's IT department spent more than a year working on the development of Chip in order to make the procurement website easier to navigate, Coral said.
Chip is powered by the Microsoft Azure platform, and it's a game changer in how to deliver city services, said Toni Townes-Whitley, corporate vice president of the worldwide public sector and industry for Microsoft, during a keynote at Smart Cities NYC '17.
"[Chip] answers about 300 conversations a week, about 1,400 per month, and they are just really starting to get some momentum," Townes-Whitley said.
SEE: IT leader's guide to the rise of smart cities (Tech Pro Research)
A prototype police vehicle for smart cities
Microsoft also displayed a new prototype patrol vehicle with an array of smart city features, including the capability to send out a drone, body-worn cameras, and license plate readers. This is Microsoft's second such prototype, and while there are no plans to produce such a vehicle for manufacture, it is used to show off the variety of features that Microsoft offers, Wilson said.
VIDEO: Smart Cities NYC '17: Uncovering the tech features in Microsoft's smart patrol car(TechRepublic)
"It has multiple connectivity methodologies. You can use cellular or Wi-Fi and there's a massive hard drive. It is a true connected car. It enables the police officer to spend more time in the field instead of having to go back to the police station. The license plate readers can read 500 license plates at speeds up to 200 mph. The car has 360-degree video camera capability. The drone can go up to look at an accident sites," Wilson said.
Some of the features available in the prototype vehicle are already being used in police departments in Miami and Atlanta and at the sheriff's department in Riverside County, CA.
"It makes the police officer that much more effective," Wilson said.
Also included on the agenda at Smart Cities NYC '17 was the announcement that the New York City Department of Education is using a GPS bus monitoring system built on Microsoft Azure and Power BI to manage vehicle maintenance, provide improved student location services, and ensure greater safety for students.
Three takeaways for TechRepublic readers
Microsoft launched a Smart Cities for All Toolkit to help city leaders add accessibility features in their cities.
The city of Los Angeles debuted an AI bot to help citizens navigate its procurement website.
Microsoft showed a prototype police vehicle to showcase each of its tools for a police department.
Content retrieved from: http://www.techrepublic.com/article/smart-cities-nyc-17-microsofts-deep-dive-into-smart-city-tech/.
Upcoming Events
There are no upcoming events.
SC4A VIDEOS

Designing Smart Cities | James Thurston at Smart City Experience 2020

Defining and Measuring Inclusive Smart Cities
James Thurston's Interview on BBC Click Radio | January 23, 2019

Smart Cities for All in Mexico | James Thurston Speaks on the Digital inclusion Maturity Model
Message from Dr Victor Pineda for IDPD